Welcome to Liberty Dental Care, your trusted dentists in Richmond Hill. Creating and maintaining healthy smiles that inspire confidence is our number one priority! Dr. Sharla Seunarine and Dr. Sapan Mukhatiyar proudly serve the Richmond Hill, Ozone Park, Jamaica, Woodhaven, Queens areas. At Liberty Dental Care, we offer a full range of the latest and most advanced dental procedures designed to meet the needs of every member of your family.
A healthy and beautiful smile is not only an attractive asset, it is essential to your overall well-being. Our dentists in Richmond Hill provide the finest quality care enhanced by an outstanding level of artistry and delivered in an environment that is both comfortable and caring. With today's array of sophisticated and modern dental technology even the most challenging smiles can be transformed into ones that dazzle. We use the most advanced techniques to provide all our patients with outstanding results!
We understand that getting dental care can have financial considerations. That is why we work with many insurance plans, accept credit cards, and offer flexible financing options. We encourage you to browse through our website for more information and to contact us with any additional questions or to schedule an appointment to begin care.
Our dental office in Richmond Hill uses the latest state-of-the-art equipment and cutting edge technology and we uphold the strictest sterilization techniques. We know that many people may feel anxious about coming to the dentist, so it is our goal to make your visit with us as pain and anxiety free as possible. We view it as our mission to educate our patients about all of their oral health care options and to help guide them to choose a treatment plan that is most suitable and appropriate for their needs.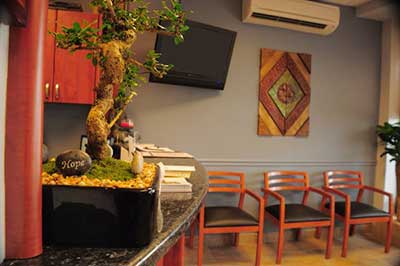 Scheduling Appointments
To make an appointment, simply call us or click here to Request an Appointment online.
Payment Options
We accept Mastercard, Visa, American Express and Discover credit cards as well as cash. We accept many insurance plans including most major PPO's. Patients without dental coverage are eligible for a free consultation. To find out if we accept your plan, please call our office.
Convenient Location
Our office is located at 112-10 Liberty Avenue, Richmond Hill, NY 11419. Please enter your zip code or city, state below for door-to-door directions.